In case you missed the other recent posts in this same vein, try Large family mtress reduction: streamlining, and Large family crisis reduction: getting ahead, part 1 and part 2
This post is not about looking one's responsibilities straight in the eye, although that is a good subject to cover!
No, this post will be all about creating a "neat" out of a mess!
First, we will take a tour. Grab your coat, your purse, your umbrella, your diaper bag, just anything you need and come along….
Our first stop will be at a hotel lobby that is delightful, albeit a bit busy:
There is a lot of pattern here, which makes the room cozy and warm, and yet there is very little clutter. The furniture is arranged well, the surfaces are clear.
Next, we will look into a bedroom in a real home:
Although the picture is not of the highest quality, it is interesting to note how tidy things look, isn't it? The books are neatly stacked, the tables are nearly clear, the bed is neatly made.
Here is an example of a neat child's closet: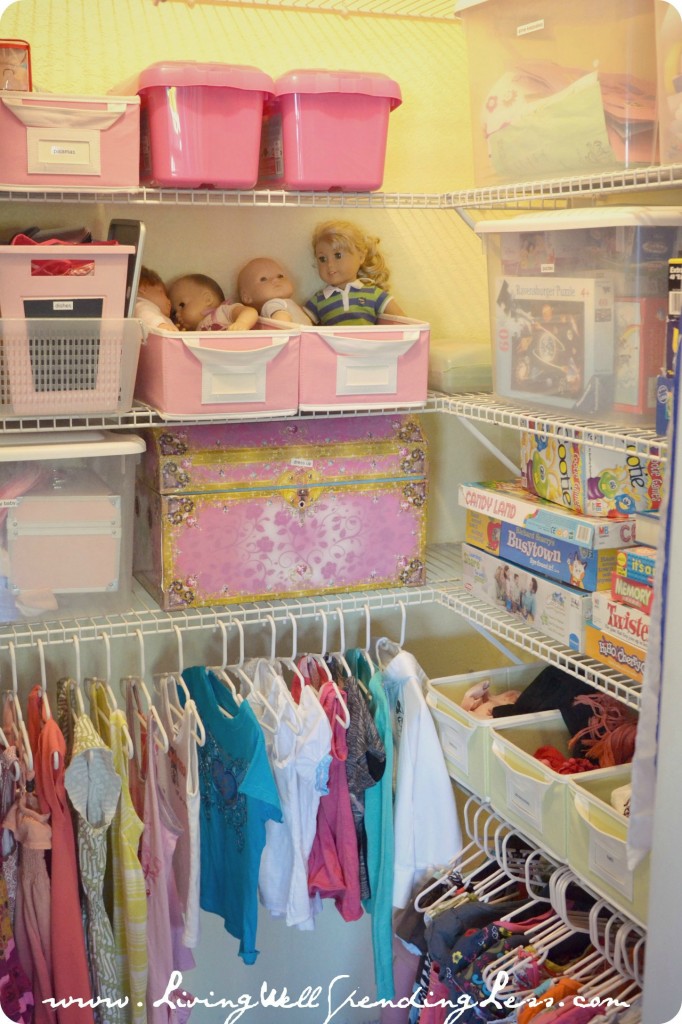 Don't you want to breathe a sigh of relief when you view this photo? There is a place for everything, yet there is still room for more. Even the hangers are neatly spaced apart, and the clothes are hung according to length (you can learn more by visiting the blog this was taken from, Living Well Spending Less).
Lastly, we will visit a department store:
This photo is taken of a Fredmeyer store. It includes a sea of different aisles filled with a dizzying number of products, yet it is all very, very neat and organized.
And now we come to the end of the tour, and finally to the reason for the post!
When I was a young girl, I worked in a retail store in the shoes and men's-wear departments. It was eye-opening to see just how quickly everything became messy, especially if there was a terrific sale going on. If men's jeans were on sale, at the end of the night we would enter into the dressing room and find unwanted pants piled three feet high in some places! Of course, a big portion of my job was to keep things neat and tidy, because everyone knows that potential customers are turned off by chaos and mess. In fact, we were reminded to "face" the shelves and the racks on a regular basis throughout the day.
In case you don't know what "facing" means, just read this from Wikipedia:
Facing (also known as blocking, zoning, straightening, or conditioning) is a common tool in the retail industry to create the look of a perfectly stocked store (even when it is not) by pulling all of the products on a display or shelf to the front, as well as down stacking all the canned and stacked items. It is also done to keep the store appearing neat and organized.

The workers who perform this task normally have jobs doing other things in the store such as customer service, stocking shelves, daytime cleaning, bagging and carry outs (in grocery stores), etc. In some stores, however, facing is done only by the stockers. Facing is generally done near closing time when there are fewer customers and also while the store is completely closed. In busier stores it may be done constantly.

In department stores it may be referred to as recovery, as in the store is recovering from the rush of customers that affect the model appearance the store wants to portray. Merchandise may be put in the wrong area, or customers may leave debris on the floor. Correcting these issues is a part of the recovery process.
Did you catch all of that? "Facing" keeps things "appearing neat and organized." Retailers have always known that shoppers will come by more often, stay longer, and purchase more if stores are neat and clean. Families are just as important, if not more important, than store customers (the people we take care of are actually our "clients," aren't they?).
Just how does this apply to the large family home?
Well, for one thing, no matter how we try and keep a lid on clutter, large families still need a lot of "stuff" to survive each day. Minimalists may get away with keeping only one pair of shoes by the door, but maximalists (big families) need to have a number of pairs handy; in our home that currently means 11, and at one time it meant 15!
We have to have 11 glasses, 11 plates, 11 forks and spoons, for each dinner. We need 11 coats, 11 pairs of mittens, 11 caps whenever we want to go out. Our eight beds need sheets and pillowcases, blankets and pillows. There are 11 towels that are used daily for personal hygiene, 11 toothbrushes that are (hopefully) used.
So, even though it is important to get rid of unwanted items in order to simplify and create ease in cleaning and maintaining a home, mothers of many still have to find ways to deal with loads of important, even essential, items everyday in such a way that the family can still enjoy peace and comfort.
Here are some ways to keep all of the flotsam and jetsam of life in order:
Organize according to type
Organize according to color
Organize according to shape
Organize according to size
Organize according to "ease of use" (most used items in the front, on the top, etc. to keep everything from being disheveled every time someone has to rummage for something)
Things that need to be "faced":
Toothbrushes and paste and other personal care items (such as brushes and combs, barrettes, make-up and perfumes, etc.)
Of course, it is not just Mother who needs to keep things orderly, it is the job of the entire household. While it is wonderful to have children who automatically understand how to make things look "neat," and I have actually had a few of those, every family has a few who were unable, or unwilling, to catch on. Just what do you do with a child (children) like this? Here are a few ideas:
Minimize the possible messy items for this person. Don't allow him/her to keep four toothbrushes, or sixteen tubs of Lego's. Be brutal and bring things to a minimum; it will mean a better relationship for the both of you!
Take the time and/or expense to have some cheap bins available which are  clearly labeled according to their expected contents, then make sure you inspect regularly to make sure they are placed correctly (nothing more disgusting than to find a molded apple or orange in the bin of socks!).
Take a closet or cupboard, organize and face it, then take a picture of it, print it out, and post it inside so that a young (or old) learner will see what it should look like.
Take a cue from retailers and have regular "facing" times, then offer a reward for neatness!
Have the children do a "general" job, then go in and finesse it yourself (I do this as therapy some days–I do not consider it a sickness!).
Some sites that will help and inspire:
Organize Junkie–this one is so much fun–I salivate just looking at the photos!
Among others, here is a very interesting post from iheart Organizing that discusses taking what you already have and making it look more appealing.
Here is a Pinterest page chock-full of amazing ideas and inspiration from all over the Blogosphere!
What sites inspire you?